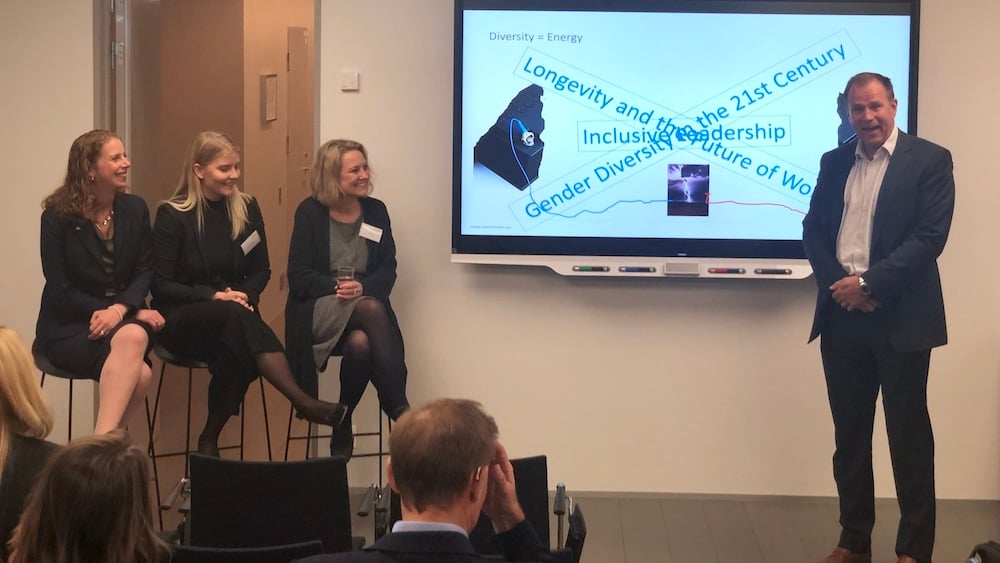 The world of work is changing and so are outdated views of age, gender and leadership. Companies who understand the potential of diversity are energized by new leaders at all levels. At a recent breakfast seminar hosted by Norwegian law firm Simonsen Vogt Wiig in cooperation with Interimleder and Canadian Norwegian Business Association, where I had the honour of moderating the debate, the spotlight was on this exciting topic.
– Create more energy with diversity!
This was the parole for the seminar, where we gleaned valuable insights from some of the most cutting-edge research into the world of work and how demographics in the workplace will continue to shift over the coming decades. I had the privilege of sharing the platform with three fascinating and brilliant women for a discussion on a topic I believe will become increasingly important in the near future.
Longevity and the Future of Work
Visiting speaker from Canada, Lisa Taylor had the first presentation. She's the founder and president of the Challenge Factory, an organisation that does research and based on their findings, boldly promotes the age diversity perspective in work life.
She pointed out that the retirement schemes in all nations were made at a time when life expectancy was much lower, and that it's dramatically necessary to use the workforce longer, since people today are living to the age of 82 in both Norway and Canada – a huge gap between life expectancy in 1935, which averaged 63 years.
It's time to make a new scheme to make it more practical for more senior people to work, said Lisa, who wants a revolution in how to make better use of the knowledge and experience of seniors in the workforce.
Gender Diversity in the 21st Century
Helene Hermansen, chair of the board of the CNBA and Senior Associate at Simonsen Vogt Wiig, spoke about gender diversity and shared an interesting perspective from her own work-life experience.
Her employer has invested strategically in creating a culture that promotes diversity. Sixty-four per cent of associates are women, and they're actively working to promote women into more senior positions, which sets them ahead of the majority of competing firms.
Be sure to check out her slides below – they contain some eye-opening research findings on how best-in-class companies have gender diversity as a strategic priority, and in fact, has been at it for a few years already.
Inclusive Leadership
The last speaker, Laura E. Mercer Traavik, Associate Dean and Professor at BI Norwegian Business School, emphasised the importance of creating an environment where diversity is embraced, nurtured and leveraged – inclusive leadership.
"CEO's words and actions alone are not enough to make diversity management and inclusion work," she said. It must be heartfelt, and "HR managers need to believe that top leaders are dedicated."
Panel debate
After hearing all these perspectives on diversity, we were all prepped for a good debate. My first question was: "Which perspective is the most difficult?" The panel seemed to agree that all perspectives are equally challenging to tackle, and we dove deeper in each one.
I particularly enjoyed our discussion on age and leadership. Leadership is a gift you're born with, more or less, and you don't necessarily need to be experienced and old to be a leader. Given that this premise is true, you can take any twenty-five year old and put them in charge of a large organisation, and see it thrive.
We still have much prejudice to overcome, though, and we heard of examples where seniors were offended to be put under the leadership of younger employees, women in particular.
To truly succeed with diversity leadership, it is therefore not enough to merely have a natural born leader in charge. For them to thrive there needs to be a framework for diversity leadership in the organisation that clearly states "this is how we do things here", so that diversity is something that permeates the company culture.
If you're able to use this boldly, with courage, you might succeed better than those who don't. So use all, fat and skinny, young and old, shes, hes and zes. If they are natural born leaders and you provide them with the right ecosystem to thrive in, you will create new energy in your organisation, and who doesn't want that?