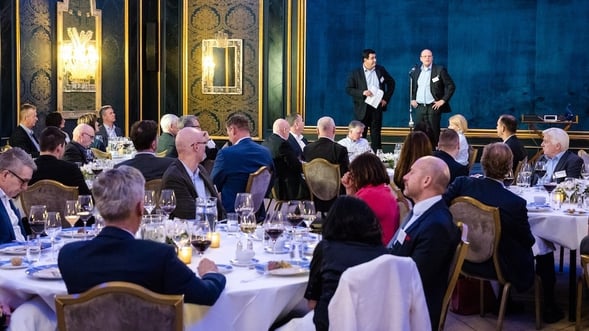 In France and Norway, we are awarding the Interim Leader of the Year. In this process, additional insights are obtained into the profession of Interim Leadership, and what it takes to be a top performer. Although there is no single answer to what defines great leadership, we highlight some characteristics based on the award process and decades of experience from this industry of executive transformation, transition and interim leadership and management. Interestingly, words having different meanings in different markets.
Interim Leader of the Year – What It Take to Win the Award?
In the statutes of the award for Interim Manager of the Year in Norway, it states that the winning candidate should be one having distinguished himself or herself as an exceptional leader, with a proven track record of delivering results according to the assignment, whether it be related to financial, organisational or market goals.

The interim manager is one who demonstrates a keen ability to quickly comprehend the situation and the organisation, following up with the necessary initiatives. The award winner serves as a role model for other interim managers and actively contributes to sharing his or her competence and promoting interim and transformation leadership.

In this blog article, we summarise the key characteristics mentioned by those who have submitted votes or acted as references for the nominated interim managers. In short, outlining what they believe constitutes an «exceptional leader». In turn inspiring those wanting to develop interim and transformation leadership skills, to our customers buying expertise solutions, and to future candidates with ambitions of competing for Interim Leader of the Year.
What Are the Defining Characteristics?
One piece of wisdom learned from the famous Norwegian athlete and leader, Thor Ole Rimejorde, is that everyone can learn something from everyone else. Always. I hope the following descriptions and adjectives will evoke something in you that points to areas where you can learn something.


Exceptional interim and transition leaders are OVERSIZED, making them operational from day 1!
Interim leaders need to be able to "hit the ground running", with little to no training, a characteristic that is often mentioned by the voters and references: "John Doe quickly gained an understanding of the situation of the company, the business model and the organisational structure." "… immediately notices flaws in the value chain and implements actions." "… has in a short period become very well acquainted with a large, international corporation with a complex organisational matrix." "… quickly sees the invisible power structures and is vigilant to gatekeepers." "… gets the message impressively fast."


Exceptional interim leaders EXECUTE
An interim leader knows how to create results through the skills of the skills of others. "Jane Doe can execute without getting stuck in details", writes one reference. "Not afraid of carrying out unpopular actions", is a trait highlighted by another. Similar words that are frequently mentioned: impatient, resolute, determined, makes things happen, effective, solution-oriented, result-oriented, good at prioritising, perseverant, strong ability to complete, great work capacity and goal-oriented.


Exceptional interim leaders deliver RESULTS
Most importantly – interim leaders leave behind a value contribution: "John Doe is good at building value and leaving behind him self-motored systems." "… creates efficient work methods and process, creates order in chaos and delivers results." "… improved bottom line and cash flow."


Exceptional interim leaders are clear and EFFECTIVE COMMUNICATORS
Great interim leaders quickly set the course and mobilise people to follow them there. They see what is needed to reach the goal, they create a plan and can communicate it in a clear and compelling way. In the reviews, great communication skills are often mentioned: "John Doe speaks his mind, has the courage of his convictions and bases his opinions on facts and analyses." "… is a great teacher and has clear and distinct messages." Other related adjectives are: fearless, head-on, direct, dares to challenge established truths, transparent, able to give constructive feedback and communicates goals and expectations in a clear manner.


Exceptional interim leaders are EMPATHIC and MOTIVATE their co-workers
"Jane Doe makes you feel important and knowledgeable." "… delegates responsibility to others without micro-managing them." "… acknowledges teammates." "… gets people onboard in a pleasant manner." "Behind his rough facade beats a caring heart. He sees you and cares about you." Other adjectives that are used about the nominees are: enthusiastic, committed, inclusive, asks good questions, attentive, generous, patient, calm, positive, inspiring, good with people, emotionally intelligent, kind, pleasant, great sense of humour and easy to work with.


Exceptional interim leaders are highly COMPETENT
Interim leaders are often overqualified for the job: "John Doe is a highly-esteemed coach to all members of the management team", writes one reference. Other adjectives that are used to described the candidates are: strategic, analytical, business-oriented, makes logical decisions based on facts, optimistic realist, market insight, senior who delivers results, skillful tutor, sparring partner, delivers value, focused, process-oriented, skillful negotiator, excellent advisor, updated on latest developments in their field, experienced, knowledgeable, structured, needs little follow-up and is good at leading complex transformations.


Exceptional interim leaders have impeccable INTEGRITY
"Jane Doe has high integrity, is ethical when dealing with employees and is highly respected. No-one deserves my respect more than her", writes one reference. Related adjectives: hardworking, straightforward, fair, genuine, honest, transparent, professional, reliable, dedicated, authentic and trustworthy.

It will be quite interesting to see what characteristics the jury will emphasize when choosing Interim Leader of the Year 2018. You will have to wait in anticipation for their conclusion, which will be announced early 2019.